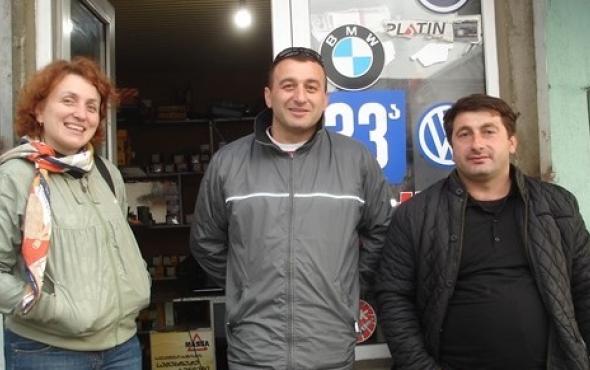 Car repair shop
Upon returning to Georgia, Henrik and his family found their bearings in Tbilisi after having lived as irregulars in Belgium. With his car repair shop and his bicycle rental business, Henrik (in the middle on the photo, with his brother on the right) can finally provide for his family again.
Life as irregulars in Belgium
Henrik arrived in Belgium with his wife and two children in 2013 with no asylum application or regularisation request. Apart from some odd jobs in the construction industry, it was impossible for him to find an official and stable job. He could no longer provide for his family and ended up making the decision to go back to Georgia with them. Given the vulnerability of this family, Fedasil decided to provide them with reintegration support to invest in an income-generating activity.
Tyre repair and bike rental
On the advice of Caritas International, Henrik used his reintegration support to rent a place next to his brother's car garage and buy a vulcanisation machine to repair tires. Shortly after, he and his brother decided to also put money into the purchase of bikes in order to rent them out – a novel idea given that bikes are not yet used as a primary means of transport in Tbilisi.
Henrik is pleased with his return to Tbilisi. With the support he received and the help of his brother, his project quickly took shape and evolved. He can now provide for his family, something that was his main concern in Belgium.
Source: Caritas International