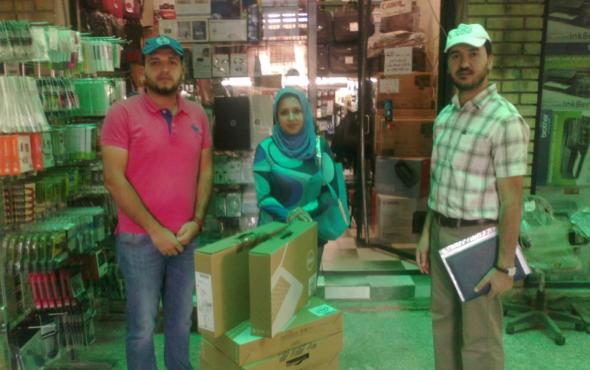 Opening of a cybercafe
Hoda, pregnant with her second child at the time, left the Baghdad region in October 2013. Together with her eldest son, she wanted to join her sister in Belgium. Her pregnancy was difficult and she was concerned about the medical monitoring in Iraq. She hoped that her children would receive better education and healthcare in Belgium.
After several months Hoda decided to return to Iraq, as she was unable to find work in Belgium in her field as a qualified accountant. Her goal: to start a company and show her sons that you need to work hard and that nothing is handed to you.

Reintegration project
Hoda and her two sons returned at the end of 2014 to their village near Baghdad. Hoda decided to open a small cybercafe for women in her village during certain times of the day. The women can drink tea, meet each other and they can use the internet peacefully.
Hoda used the money of the return programme to buy computers. She started her company in an old sewing workshop at her parents' house. Despite the local difficulties (power failures, bad connection) the cybercafe is highly successful and Hoda is able to contribute to her family's income. Hoda's eldest son goes to school and hopes to later attend university.

Source: IOM